Look no further! This software is one of the lowest-priced End-of-Day and Intraday stock quotes downloaders with rich features on the Web!
Yes, you can enjoy an extra 5% discount if you purchase the license before the trial period is over!
The purchase will be done on a secured server. Your personalized serial number will be assigned to you and automatically registered on your computer system, as soon as your credit card is billed.
You can also enjoy free updates and purchase major revisions at a discount in future.

Still thinking... OK, I will make it hard for you to resist. I will include the IE Cookie Cutter Software ($25 value)

Cookie Cutter is a PC tool. Internet Explorer does NOT delete all your cookies and history files, even when you tell it to! This clutters up your hard drive and SLOWS DOWN your browser. Cookie Cutter lists everything for you, and allows you to selectively remove cookies and history files, or remove them ALL at once.
(Instruction on downloading bundle will be given in the receipt email upon purchase.)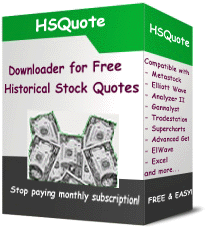 eSellerate Security: When you purchase through eSellerate via the above 'Buy It Now' button, the transaction is protected with the strongest exportable standards of encryption. We require Secure Sockets Layer (SSL) connections on pages where personal data and credit card information is entered and displayed. When on these pages, you should see your browser's indicator that a secure connection has been made. For example, on Microsoft Internet Explorer, this is represented by a padlock on the status bar at the bottom of the browser windows. Clicking on this padlock will bring up more information on the encryption technology used by our web servers.

For further protection, eSellerate does not store your complete credit card numbers after the transaction.

If you prefer to purchase via PayPal, click the following button.

For other payment alternatives, such as money order, cash check or wire transfer, please contact us.

License Key Transfer

You can transfer your HSQuote Plus license key to another computer. As too many customers are changing computers and Windows operating systems, we need to hire additional resource to do this manual work. As of 1st July 2010, we are charging a small fee ($5) to offset the administrative cost. In return, we offer you an opportunity to buy an extra HSQuote Plus license for just $40, or an extra standard HSQuote license for $30. Please contact us if you need to transfer the license key, or simply make the payment below via PayPal. We will contact you and give you the instruction for the transfer or your extra license key.