Features and Benefits: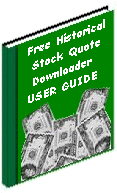 This Software existed since year 2002! Author continues to update with available free data sources, and provide user support.
Download End-of-Day stock quotes on major stock exchanges

around the world FREE

. Also

Forex

,

commodity futures

, market

indices

,

mutual funds

, money market funds,

ETF

, corporate bonds, and

metals

.
(HSQuote Plus) "

My Web Server

" to download data from user defined websites.
(HSQuote Plus)

Enhanced charting

features, including indicators, more chart styles, line studies, chart templates, load/ save/ print charts.
(HSQuote Plus) Automatic

post download processing

capabilities, such as special data conversion, executing an application, move/ copy/ delete a file or folder, auto-split multiple portfolios, and simulate keyboard clicks.
Compatible with

MetaStock

,

OmniTrader

,

TradeStation

,

CandlePower

,

Elliott Wave

,

Analyzer II

,

Gannalyst

,

Supercharts

,

Advanced GET

,

ElWave

,

Excel

, and more...
View MetaStock Data in

Text

or

Chart

.
Auto-redownload of missing data. Regular

refresh

of Intraday and last-trade data.
A flexible

Data Converter

to convert between MetaStock and ASCII or Excel worksheet formats. It can convert MetaStock Daily Data to

Weekly

and

Monthly

Data too.
Free 21-day trial period before you buy (

full features

on trial version.)
Quick to set up.

Easy to use

. Almost no learning time for basic features. Design for usability. Animated help. No compromise for Advanced users who need many more features.
Multiple download paths to

shorten download time

. Download anytime, as often as you need.
Can choose the most popular

MetaStock

format or

personalize

own output

text

or

spread-sheet

.
Can keep different stock ticker lists in your portfolios, and as many as you like. Portfolio files can be linked together for

one-click download

.
Option of

Daily

,

Weekly

,

Monthly

or

Intraday

(US only) data, and 20-min delayed

Real-Time

data. Use Last-trade refresh to accumulate Intraday data for

non-US stocks

.
Browse to

user-defined URLs

for charts, news, and data. Auto-download of zip files.
Easy to add and delete

your stock tickers/symbols - all done within the program, just like the Notepad editor. Can copy your existing ticker lists.
Auto-repair data, and facilitate adjustment of

stock splits

. Auto-adjust Euro currency conversion on 1st Jan 1999 for EMU country stocks.
Command line or batch file processing, with a built-in

Task Scheduler

.
Keep your default portfolio and output format setting. Coupled with individual control of download servers, Daily/ Weekly/ Monthly selection, tracking of last download date and MetaStock files conversion, you can have a

One-Click

download in future - just press the Start button!